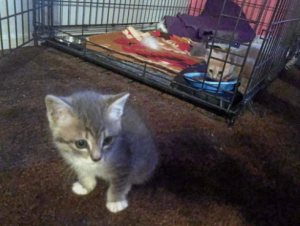 They could have called her "Lucky," but the people at Solano County Friends of Animals named the six-week-old gray tabby kitten with the little white feet, "Tennessee," after the major Vallejo thoroughfare she was found in the middle of.
"A city worker found the kitten in the middle of Tennessee Street, near Marin Street, on the white stripe in the middle of the street, a few days ago, and snatched it up out of the street and took it to Bayside (Veterinary Clinic)," Solano County Friends of Animals (SCFOA) volunteer Ruby Waderich said. "They said she was in shock, scared and covered in fresh urine, but otherwise, looked unharmed. Not a mark on her."
Bayside receptionist Racene Jones was at the counter when Tennessee was brought in.
"She was brought in by a gentleman with a City safety vest on, I didn't get his name," Jones said. "He said she was in the middle of the street. She seemed to be in shock, but looked pretty good."
Vet staff monitored the kitten that day, and Jones took her home as a foster, and noticed later that she wasn't using her legs, she said.
"I brought her in for ex-rays, and they found her right femur was broken at the hip," she said. "We assume she was hit by a car."
The prognosis for such an injury in a kitten so young, is unclear, both women said.
She doesn't appear to be in pain, but, should that change, some sort of elective surgery, might be indicated, Jones said.
"I had a kitten once, with almost the same kind of injury, after being stepped on. Nothing can be done, and it's up to the kitten whether it will ever walk again," Waderich said. "My other one is running and jumping. She's been adopted and they send me pictures, so there's a very good chance of a complete recovery."
The good news is that the very next day Tennessee started walking on her toe, and has begun putting some pressure on her foot; an indication she's going to be OK, Waderich said.
Tennessee will be on strict cage rest for a couple of weeks, but SCFOA officials hope she'll find a forever home after that, Waderich said.
"She's a fluffy, friendly girl with the loudest purr when you rub her face," she said.
Jones agreed that "there's hope for the kitten in the long run. We don't know how much mobility she'll have. She definitely favors that leg, but she eats, uses the litter box. She's a survivor. She purrs so loud. She's so happy, its crazy."
Tennessee may wind up with a disability, but appears to be a happy, functioning kitty, nevertheless, Jones said.
"She's definitely coming around. She's sweet. She lets my 11-year-old twin girls, hold her," Jones said, adding that if she didn't already have a dog, two indoor and two outdoor cats, one of them a "hot mess" of kitty conditions, she'd keep Tennessee, herself.
"I'd take her if we didn't have a full house," she said.
Tennessee was lucky to have made it to where she was found with only the injury she apparently suffered, both women said.
"She was lucky to have made it to the middle of the road without getting killed," Jones said. "It's incredible. That area is so busy there, and people are going so fast. She's so lucky."
The middle of a busy street is only one unlikely place baby felines are found during kitten season, Waderich said.
"They're found in car motors, in boats, in the weirdest places," she said. "We are a no-kill organization, so we will work with this kitten until she finds a home."
It's a subject Waderich has become an expert on in the past dozen years she's been volunteering with SCFOA, she said.
"I worked 'till I was 68 and once in a while we'd have a feral in our neighborhood that had kittens, and I didn't know what to do with them, and someone turned me on the SCFOA, and when I retired that was my give-back," she said. "Before that I've always had just two. One for 21 years. Just a normal, two-cat person. Since then, I typically have just under 100 kitten fosters annually. Up to seven at a time. I'm sitting here now, scratching a kitten. It's just nice. They're easier to care for than a dog; you feed them and clean their litter box. And they're amusing. They're fun to watch, and they give you so much love."
It's kitten season, and SCFOA can use all the fosters they can find, Waderich said.
"We're up to our ears in kittens," she said. "One weekend we took in nearly 30 bottle babies. People are just finding these kittens hither and yon. We could use donations of food, litter, money."
The organization does adoptions at Benicia's Pet Food Express Fridays, Saturdays and Sundays, she said.
Find more information on SCFOA's Facebook page, write or donate to SCFOA, P.O. Box 235 Benicia, CA, 94510.
For questions, email retiredruby@comcast.net.
Contact Rachel Raskin-Zrihen at (707) 553-6824.